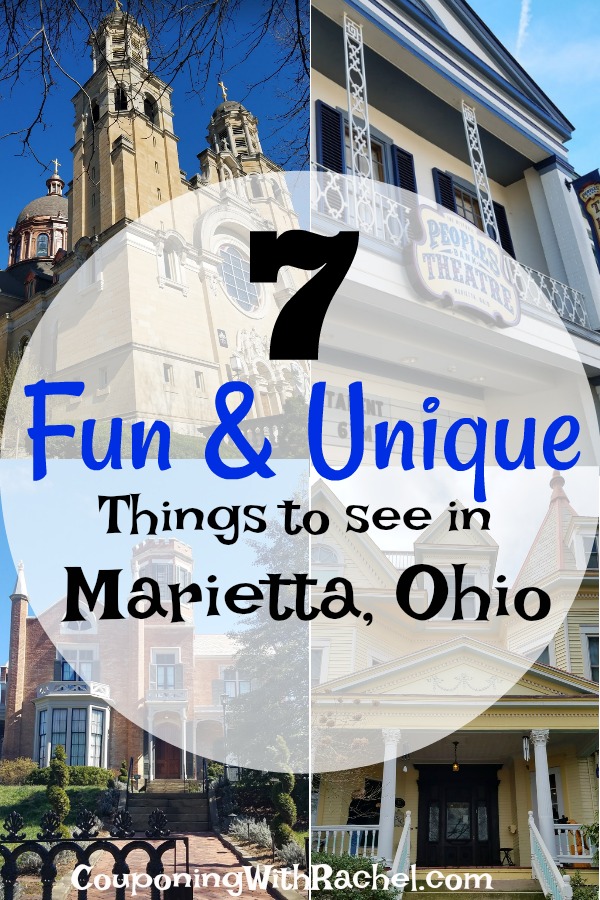 While I've passed through Marietta, Ohio many times in my travels, I haven't stopped in this quaint little town since my senior year spring break trip with a close friend (I was a wild teen, right??).  This spring when the Marietta-Washington County CVB invited me down, I jumped at the chance to explore the nooks and crannies of this fabulous historic town in person. With my camera in my hands, I visited a ton of places in Marietta, Ohio. Here are a few fun and unique places that make this city a perfect travel destination.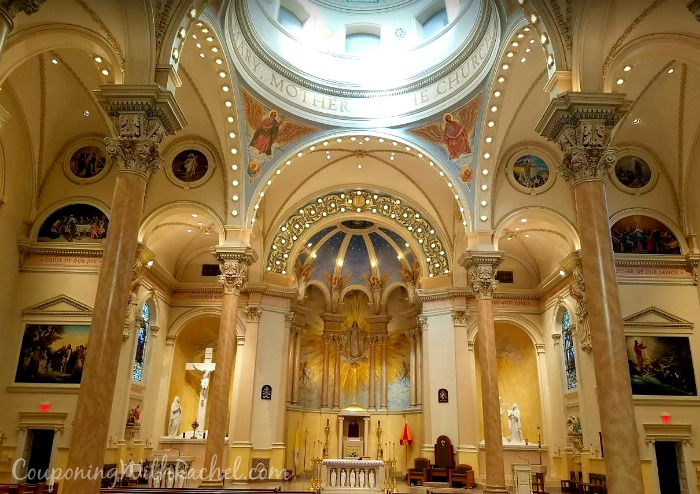 Once the Church of Saint Mary of the Assumption, parishioners have gathered in this place of worship since 1838. In 2013, a great distinction was given and this church became a minor basilica. The Basilica of Saint Mary of the Assumption is simply gorgeous and a sight to behold to both Catholics and non-Catholics. The ornate decor, including a carved Italian marble altar and art glass are simply beautiful.
Visitors are welcome to attend any masses which are held Saturdays at 9:00 am and 5:30 pm, and Sundays 8:00 am, 10:00 am and noon. Daily masses are held at 7:45 am and 12:05 pm.
MOUND CEMETERY
I still remember being fascinated in my Ohio history class when learning about the historic burial mounds in Ohio. Did you know the Mound Cemetery hosts one of the oldest in the state of Ohio? Mound Cemetery, once called Marie Antoinette Square, is the final resting place of more Revolutionary War veterans than any other.
The feature of Mound Cemetery, Conus Mound, was constructed between 800BC and 100AD. This 30 foot high prehistoric mound is surrounded by a depression in the ground like a moat. Want to see the view from the top? You can ascend the rustic stairway on the northwest side.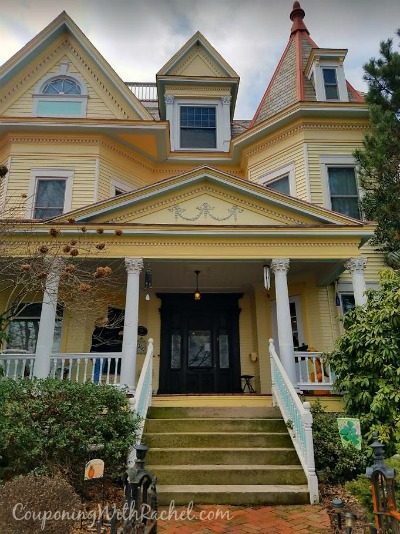 This fully restored 1901 Queen Anne Victorian home has an amazing view. In fact, it's been quoted to have  "The Best Porch View in Ohio".  With gorgeous views of both the Ohio and Muskingum Rivers, this Victorian house has such beautiful bedrooms, it will be hard to decide which one you'll want to stay in.
While I stopped in to sample some the the inn's delicious cranberry orange scones, I also got to have sip of some tea and meet Cooper, the B&Bs in-house dog. This well-behaved pup just adds to the splendor of this historic home.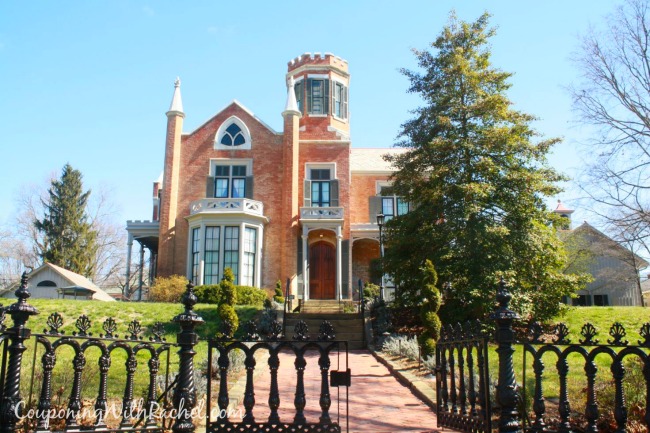 Surrounded by a wrought iron gate and sitting on top of a small hill, the Gothic Revival style Castle will beckon you to enter! Listed on the National Register of Historic Places, The Castle, built around 1855, is one of Marietta's most beautiful historic homes. This Victorian masterpiece offers both restored and reproductions throughout the gorgeous home.
Our very knowledgeable tour guide showed us room to room and pointed out the unique details of this home such as the Victorian lamps, antique furniture and large poster beds. The details of this home were simply stunning. The Castle is definitely something you will want to see while you are in Marietta, Ohio.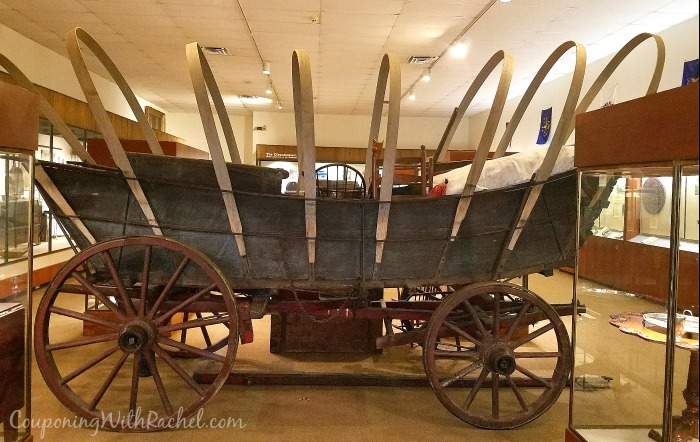 Learn a little about Marietta's history at the Campus Martius Museum located right in downtown, Marietta, Ohio. This museum is great for the whole family and offers a peek into what Marietta, Ohio looked like so many years ago. There are all kinds of artifacts pertaining to the soliders who participated in the Revolutionary War and also shows items from pioneer life including their main mode of transporation back then, the covered wagon.
The Rufus Putman House, is actually inside the museum too! This civilian fortification was built in 1788 and was part of the orginal fort stockade. It's been restored but has it's original foundation. It's two stories tall and you are able to explore both levels.
The Lilly Martin Spencer exhibit is also currently there. Lilly Martin Spencer's paintings reflected common moments in the lives of the people that she painted and it's really amazing to see.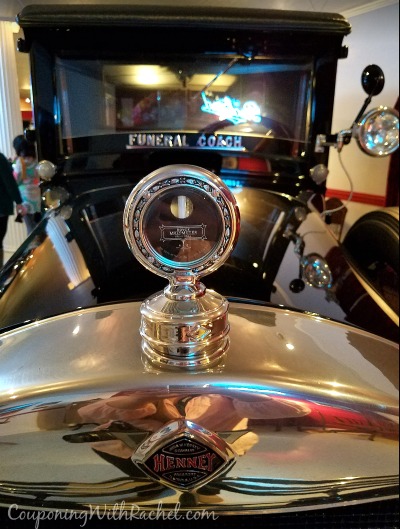 I didn't know a thing about the history of morticians before visiting the Mortuary Museum in Marietta, Ohio. Nestled behind the Cawley and Peoples Funeral Home, in a small unassuming building, you'll find the Mortuary Museum. Available by appointment, you'll see funeral memorablilia dating to the late 1800's including a 1938 Packard Art-Carved Hearse and a historic 1927 Henney hearse that was featured in the Bill Murray film "Get Low".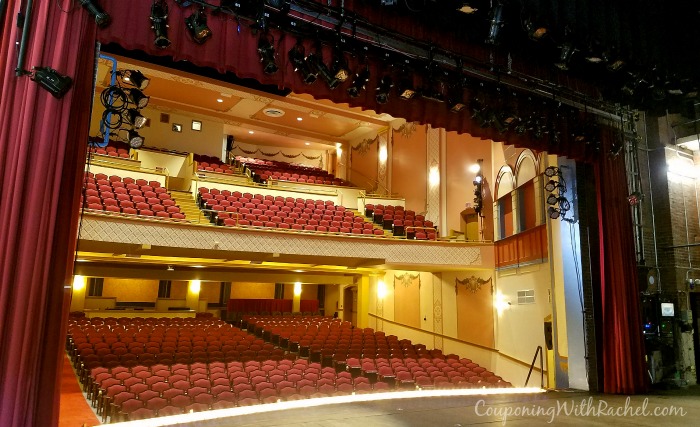 The Historic Peoples Bank Theater opened in May 1919 during the golden age of silent films. It is located in historic downtown Marietta and still retains original tile, carpet, and even the stage fire curtain.
This 940-seat facility is a major force in the cultural scene of Marietta, Ohio and offers a variety of concerts, theatrical performances and film events. If you are visiting for a few days, be sure to check out their upcoming schedule and add a night at the theatre on your list of things to do!